Northern Michigan Boat Rentals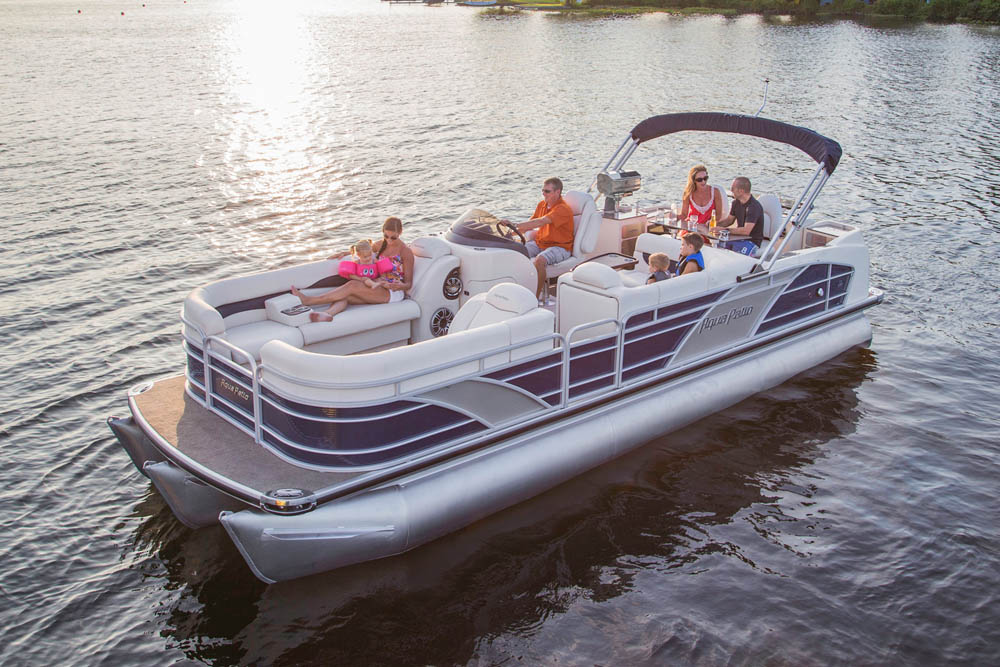 There are many ways to enjoy Northern Michigan's many lakes, but none as hassle-free and affordable as renting a boat from Aussie Watersports. Simply choose from our diverse fleet of rental options, and we'll even deliver the rental to your lake of choice!
We offer everything from sleek and speedy jet-skis to pontoons for cruising with larger groups. Heading out on East Bay to catch some trout or bass? Grab your pole and reserve one of our fishing boats, and we'll do the rest. Planning an afternoon of fun in the sun with family and friends on a leisurely deck boat? You've come to the right place. We also offer kayaks, SUPs, and ski boats as well as skis, tubes, wakeboards, and everything you could ever want for a day on the water. Office pickup and hourly rentals are available for select rentals.
Looking for things to do while in our little neck of the woods? Check out our local information page or visit Traverse City Tourisms website.
Renting a boat from Aussie Watersports is as easy as knowing what you want to do and giving us a call so we can make it happen. Our top-notch team will be happy to set it up. Make your reservation today!
Each of our boats displays a yellow Coast Guard sticker detailing how many people and/or the maximum weight allowance on any given boat. If your group is on the lighter side from recently running the Bayshore marathon, that doesn't mean you can put more people on the boat than the Coast Guard puts on the yellow sticker. Likewise, if your group just got done with a Nathen's hotdog eating contest and put on a few hundred extra pounds, do not expect to put eight 250 pound people on a boat rated for 1500 pounds. We take your safety very seriously, and so should you.
Additional factors like wind and severe weather can cause your rental to be delayed or canceled.
Lakes Series
Have your rental delivered to  Long Lake, Lake Leelanau, West Bay, or Glen Lake
Long Lake
With its calm waters, numerous islands, and abundance of fish, Long Lake is the perfect summer get-away. Water skiers love it because there's plenty of room. Anglers flock to it year-round for walleye, perch, pike, bluegill, bass, and sunfish. For anyone looking to swim and sunbathe, there are the islands and the sandbars that surround them. Aussie Watersports can also deliver your boat rental to either launch point!
Lake Leelanau
Comprised of two lakes connected by a narrow channel in the heart of picturesque Leelanau County, the glassy waters of Lake Leelanau are particularly ideal for leisurely pontoon rides. Cruise up to Leland and visit the iconic Fishtown for a day on the water you'll never forget. Aussie Watersports can deliver your boat to the Bingham Township launch on South Lake.
West Bay
West Bay is the recreational heart of Traverse City. It's surrounded by the Leelanau and Old Mission peninsulas and consists of multiple beaches, parks, marinas, and waterfront restaurants. As you can imagine, there's lots to do and see. West Bay is a popular place for jet-ski rentals in particular. 
Glen Lake
Tucked inside the prestigious Sleeping Bear Dunes National Lakeshore you'll find Glen Lake, the blue jewel of Leelanau county. The beauty of these Saffire waters never fails to astonish visitors and attract vacationers. 
Let's enjoy the boater's view as we explore Glen Lake and the surrounding area.