Lake Michigan Boat Rentals
A Great Lake in many wonderful ways.
When it comes to Lake Michigan, it's hard to describe just how big the lake is or how breathtaking the views are. With a boat or jet ski rental from Aussie Watersports, you'll get to see all that beauty firsthand. Want to know more? We've got you covered.
Did You Know?
Lake Michigan is the only Great Lake situated completely within the United States, and it's also the largest freshwater lake by surface area to be contained in one country.
The lake's many shipwrecks are well preserved due to the lake's cold, freshwater.
When you're cruising along on your boat rental, you'll find that more than 80 lighthouses dot the shoreline.
The lake is home to the famous "singing sands," so named for the unique sound they
make when you walk on them.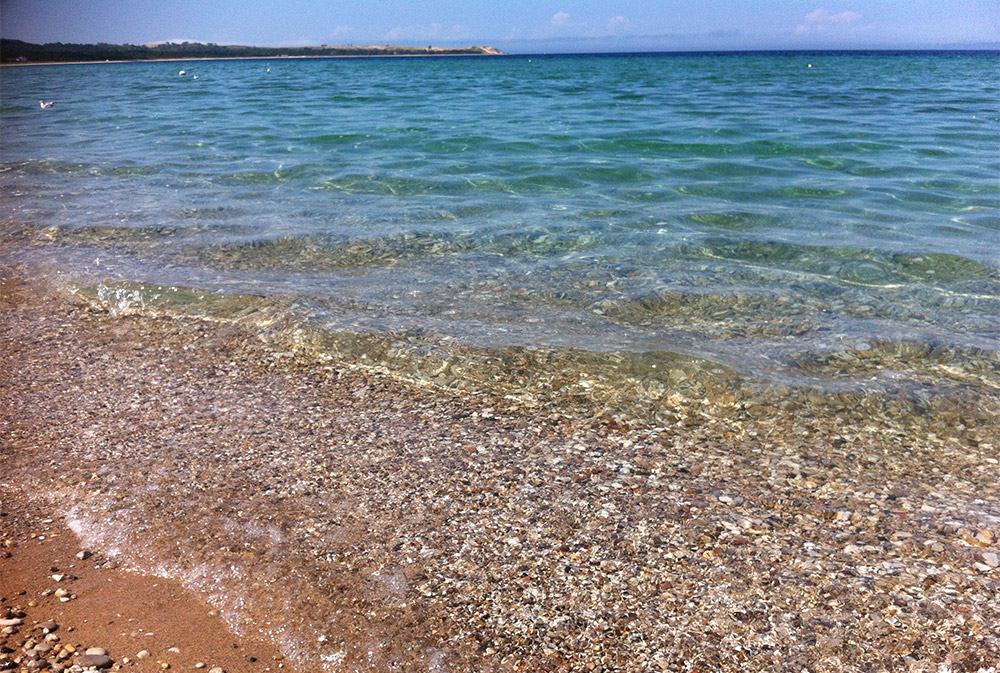 Points of Interest
The Sleeping Bear Dunes National Lakeshore is a renowned Northern Michigan landscape with miles upon miles of hiking trails, beaches, and (of course) sandy dunes.
Pyramid Point is a spectacular lookout at the end of a 2.6mile
trail whose entrance can be found just off Basch Road. The trek is mild in difficulty, but the stunning views are
worth it.
The Pierce Stocking Scenic Drive is west of Glen Lake. The drive loops throughout the area for 7.4 miles, offering panoramic views of Sleeping Bear Dunes and Lake Michigan with restrooms and picnic areas along the way.
The Manitou Islands are a must-visit
destination. Both islands are uninhabited, surrounded by pristine shipwrecks, and popular among hikers and campers alike. Anchor your boat rental and head to shore to check out the lighthouse, visitor center, and museum on South Manitou, or explore the most rustic North Manitou.
Empire, a village in Leelanau County, is right smack in the center of Sleeping Bear Dunes National Lakeshore, and it's the best place to get the lay of the land.
Blu is an upscale restaurant in Glen Arbor that's right on the water and offers not just delicious cuisine but also gorgeous views of the Manitou Islands.
Boat Launches
The Lake Street boat launch in Glen Arbor near Le Bear Resort has limited parking for trailers with a $5 fee. It's the closest boat launch if you're boating along Sleeping Bear Dunes or headed to the Manitou Islands.
Village Park in Empire is connected to a popular beach with plenty of parking, and also consists of a direct drive-in launch.
● Leland Township Harbor is a full-service protected marina with a public boat launch, ample parking, and restroom facilities. It's surrounded by sandy beaches and located next to Fishtown.
Parks & Beaches
Good Harbor Bay Beach is a popular destination for families. Outfitted with picnic tables, basic facilities, and plenty of space, it offers unparalleled views of North Manitou Island.
North Bar is one of Northern Michigan's most popular beaches, owing to the shallow, crystal-clear waters of North Bar Lake, which is separated from Lake Michigan by a couple of low dunes.
Lake Street Beach is located right next to Blu in Glen Arbor. It has on-street parking and plenty of sandy beaches where you can swim or look for stones.
Esch Beach is just 4 miles south of Empire. It's a large sandy beach located where the shallow, warm stream known as Otter Creek empties into Lake Michigan—a perfect place for kids to splash around.
Glen Haven has a boardwalk that takes you from the parking lot to the wide, sandy slopes of this beautiful beach. Located in Glen Arbor Township, Glen Haven also has drinking water and restrooms.
Peterson Beach is a more secluded spot on the west side of M22 with restrooms and beautiful views of the Empire Bluffs.