There's nothing quite like a sunset on East Bay.
Located on the east side of the Old Mission Peninsula, East Grand Traverse Bay is slightly less crowded than West Bay but no less beautiful and has just as much to do. The best way to do it all? You guessed it—in a boat rental from Aussie Watersports.
Did You Know?
East Bay is a renowned fishing spot. Head out on your boat rental and you're sure to catch plenty of brook trout, brown trout, carp, largemouth bass, northern pike, and smallmouth bass.
Many of the restaurants and shops along the southern end of East Bay are accessible via "skywalk," an overpass by which pedestrians can safely cross US-31.
The 45th parallel (halfway between the equator and the North Pole) runs right through Grand Traverse Bay.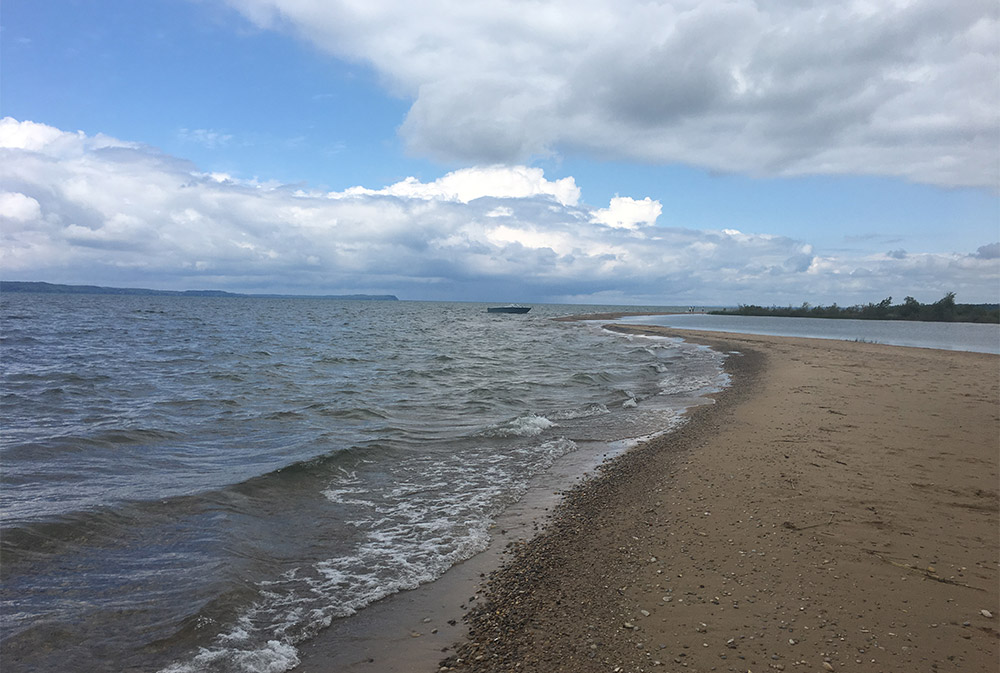 Points of Interest
Pirate's Cove is an adventure park within walking distance of the Traverse City State Park with mini-golf, a ropes course, go-karts, and water rides.
Elk Rapids is a bustling village 15 miles north of Traverse City where you can dock your boat rental and check out the many unique shops and eateries.
The Topoco Sandbar is located halfway between Traverse City and Elk Rapids, near Petobego Pond. It's popular among locals looking to anchor their boats for an afternoon of swimming and sunbathing.
Hopscotch is a taproom on the bay located just past Four Mile Road where locals and travelers alike often stop in after a day on East Bay.
The ParkShore Resort lounge has some of the best happy hour deals in the city, as well as a beachfront view of East Bay.
Boat Launches
East Grand Traverse Bay Boat Launch is a DNR boat launch and hard-surface ramp with 32 parking spaces, public restrooms, and is located just off Center Road on the Old Mission Peninsula.
East Bay Park has a boat launch at the intersection of E Front Street and E Bay Boulevard, best for smaller boat rentals.
Dock Road Boat Launch is a developed road-end launch at the intersection of Dock Road and Deepwater Point Road.
Sayler Park, located four miles north of Acme, is a park and beach with a boat launch.
Haserot Park is not just a park—it's also a boat launch, protected from the wind and waves way up near the top of Old Mission Peninsula.
Parks & Beaches
East Bay Park is popular among families and locals because of its shaded picnic areas, playground, lifeguards, and restrooms.
Gens Park is a beach on US-31 near Holiday Road. It has restrooms, a
beach/deck area with picnic tables and grills, a boardwalk to the beach, and a swimming area.
Sayler Park is four miles north of Acme and has a picnic area, a playground, and a sandy beach on the eastern shore of East Bay.
Veterans Memorial Park is a popular Elk Rapids beach with a picnic area,
restrooms, a playground, tennis courts, and a sandbar just off the shoreline.
Traverse City State Park is a 47-acre
campground with biking trails and a
quarter-mile of beautiful public beach, including restrooms.
Haserot Park, in addition to providing access to the bay for your boat rental, is a local favorite with a nice, sandy beach just past the Old Mission General Store. There are picnic facilities, a playground, and restrooms for all to use.