Crystal Lake Boat Rentals
With its sparkling waters, Crystal Lake offers a summer retreat that can't be beat.
Tucked away in the heart of Northern Michigan, Crystal Lake is the perfect outdoor getaway for boat rentals and jet ski rentals alike. With waters so pristine you can see the bottom, it's not difficult to see why travelers flock to Crystal Lake in the summertime.
Did You Know?
Crystal Lake is one of the best smelt fishing locations in the state of Michigan.
In 1873, Archibald Jones attempted to connect Crystal Lake to Lake Michigan by creating a channel. He succeeded and managed to lower the lake level by 20 feet, thus forming 21 miles of shoreline around the lake. This catastrophe is known as the Tragedy of Crystal Lake.
The Crystal Lake Outlet Dam on Mollineaux Road still serves as a means of controlling the lake levels. It is a popular spot for swimming.
The meeting house for the Congregational Summer Assembly is on the south end of Crystal Lake. The CSA has been hosting events and putting on summer activities for over 100 years.
Crystal Lake is one of the largest and clearest lakes in Northern Michigan, making it popular for boat and jet ski rentals.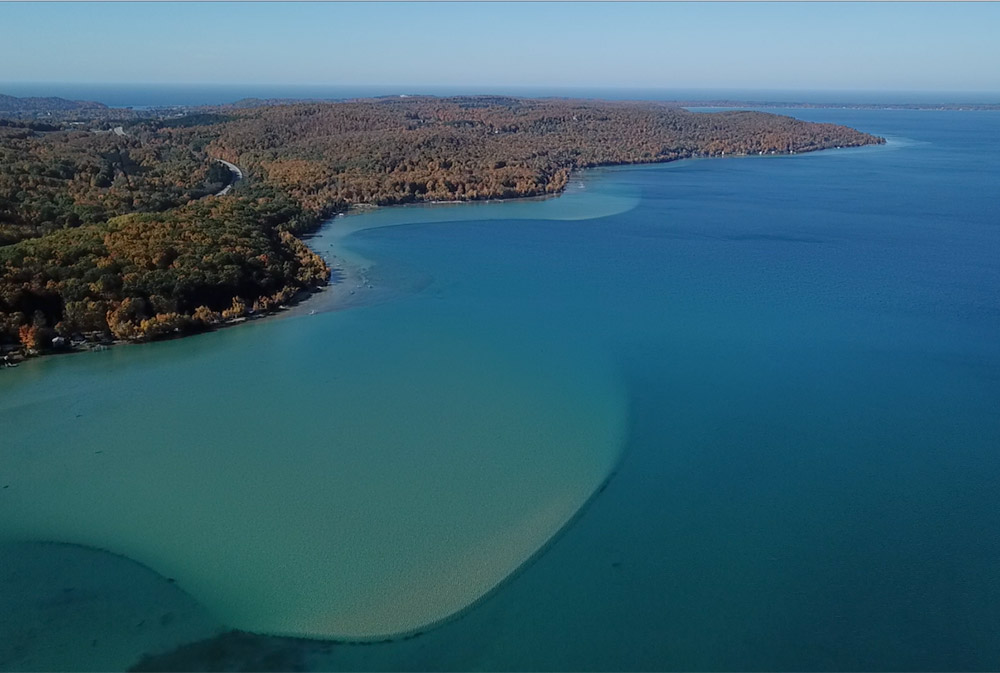 Points of Interest
Crystal Lake is great for fishing for lake trout, perch, bluegill, and bass. It's also a popular location for ice fishing in the winter.
Chimney Corners Resort on the north shore offers the only waterfront dining on the lake at their small restaurant Rock's Landing.
World-renowned golf course Crystal Downs is nestled between Crystal Lake and Lake Michigan along highway M-22. The exclusive private club has some of the best views in northern Michigan.
Sandbars just offshore near the Outlet Dam along Mollineaux Rd and the roads end at Onekenewa Dr draw local boaters who anchor and hang out in the waist-deep water to meet friends.
Betsie Valley Trail follows Crystal Lake along the southeast end near the Outlet Dam and public boat launch.
Boat Launches
The Crystal Lake DNR boat launch, just 2 miles from Benzonia off M-115 at Mollineaux Road is the largest public launch on Crystal Lake. It has restrooms both at launch level and street level, and though there's plenty of parking at the top of the hill, it's a long walk down the stairs.
The Beulah Boat Ramp has limited parking for trailers but is conveniently located right in town.
The Lobb Road end launch is best for small fishing boats and jet-skis.
There is no paved ramp and street parking only.
Parks & Beaches
Beulah Beach has several hundred feet of sandy beach and includes bathrooms, a picnic area, a safely marked swimming area, and a day dock to tie up your boat rental
while you head into town. The shops and restaurants are just a block away, and the park (with tennis and basketball courts in addition to covered picnic grounds) is right across the street.
Crystalaire can be found on the south shore and has limited parking. In addition to a sandy beach, there's also a playground for the kids.